It's the final weekend at the Creative Resilience festival of art, ideas, music, spoken word, and mutual aid — an art-driven project that amplifies community experience and the voices of BIPOC Angeleno workers, sounding the call for economic justice. Celebrating a shared cultural history of unstoppable resilience, collective action, and rising up against oppressive, anti-progress systems, Creative Resilience is a curated space of safe expression, joy and uplift, systemic overhauls and reimagined futures — things which would perennially benefit everyone, but all the more so in this prolonged period of darkness, threats, struggles, and isolation.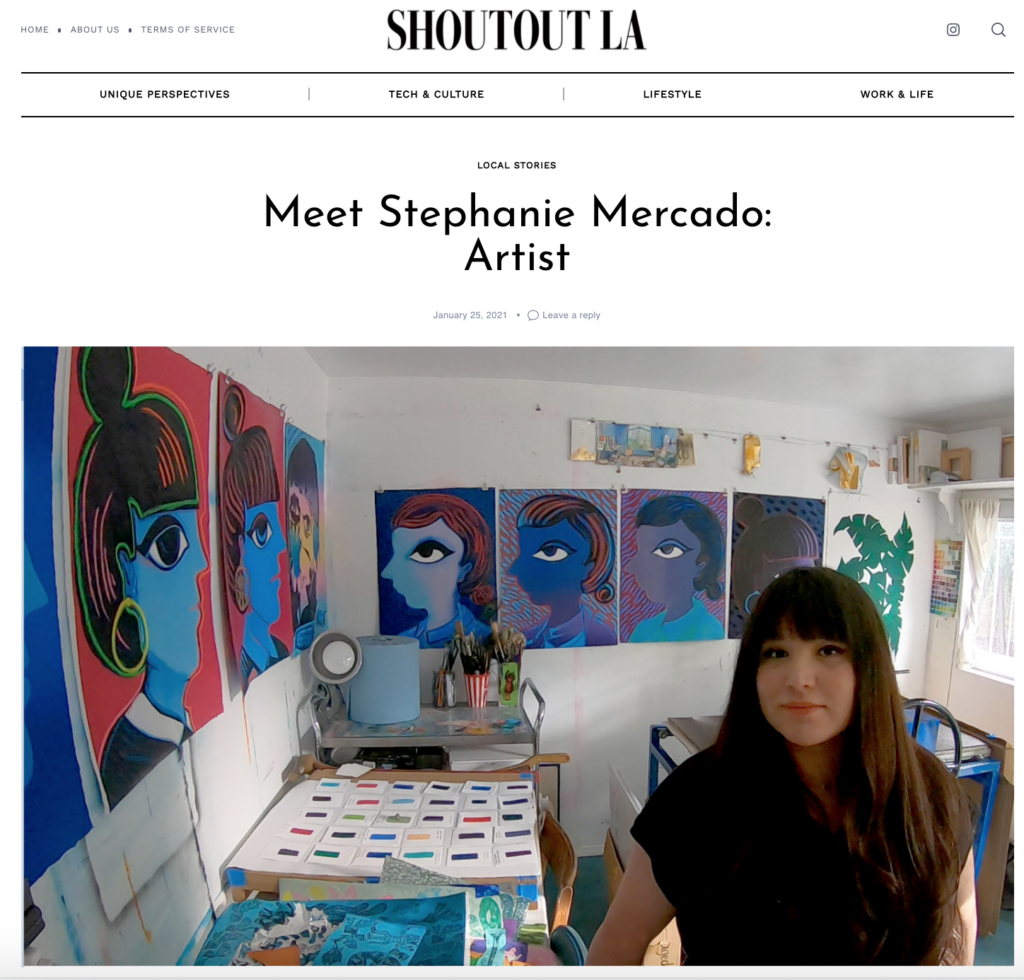 Hi Stephanie, how do you think about risk?
When I was in college one of our art professors lectured us on the difficulty of becoming an artist and said "Out of a 100 of you, 10% will continue making art when you graduate, of that 10%, 1% might have a career in the arts." Life is a series of decisions, some of them yield positive results and others are learning experiences and opportunities for growth. I take many soft-risks. I have made some life-changing decisions that have had a positive impact on my work and have connected me with wonderful people across the globe. I have applied for exhibitions abroad and artist residencies for which I have received some awards and many rejections. Rejection is part of the experience. Other risks have included working a job with a swing shift from 5 pm – 2 am so that I could make art from 8 am – 4 pm. I printed and painted in my bedroom before I had a proper studio space, sniffing ink, and squeezing between my etching press and my bed to prove my commitment to the work. I have traveled international distances to exhibit my artwork and see the artwork of artists I love on a shoestring budget, with 18-hour itineraries, overnight trains, many transfers, and narrow timelines. In 2017 I was offered a solo show in Houston and my work was crated and ready to go, when hurricane Harvey struck and all shipping and freight came to a halt. I managed to find a shipping company to fulfill the shipment on a Thursday and the show opened two days later on Saturday. I had committed my work to the gallery and I was not about to leave them without a show. The skies cleared up and many Houstonians attended and were relieved to have something to do. Whenever I dedicate time to creating a body of work, I am making choices and decisions. Should I finish the painting or finish printing the edition of linocuts? Should I update my website or apply for the grant opportunity I saw a month ago. It is a risk to apply for an opportunity when time is limited and energy comes and goes with caffeinated rushes and crashes. Lately, I have been interested in expanding my skill set and have been studying digital media, such as motion graphics, animation, and web development. One of my classes taught me how to embed virtual experiences on webpages using my iPhone and my mind is wrapping itself around the varied ways I can create new and engaging content and how I can work with other artists to create immersive experiences. This new skill set has been useful at a time when many in-person events have been canceled and exhibition and programming have shifted to virtual platforms. Learning new skills is also a commitment and an investment of time and energy, but it is invigorating and inspiring to connect with working creatives and talented students. My job experience has also greatly impacted my life. For example, I used to manage an art gallery with a large roster of artists. As a gallery director, print shop manager and artist assistant I learned about the various paths artists take to be successful creatives, and that the definition of success is a spectrum. As an artist, working in the art world is risky. It can be difficult and discouraging. I found that some people believe real artists do not have day jobs and real artists make a living off of their artwork. It is also challenging when an employer rejects all of your ideas, because being an artist can also have negative connotations and cause one to have low expectations of you. There are common beliefs about artists like – artists are flakey or don't really want to work. The artists, creatives, and cultural workers I know are incredibly hard-working people with a passion and commitment to producing high-quality work, as it is a reflection of themselves and their craft. Being an artist is like being an alchemist and a magician, by turning earth and light into ethereal experiences, documenting moments in time, inspiring change in others, and trying to turn earthly elements into gold. The path is not linear, and it is risky, but well worth the effort.
Alright, so let's move onto what keeps you busy professionally?
I am a multidisciplinary artist. I am a painter and printmaker currently dabbling in digital media. I grew up in a fabric store and taught myself to sew when I was six years old, so I have also used fabric in previous bodies of work. I believe textiles influenced my love of pattern, color and texture. My work is primarily focused on women. The most recent body of work merges printmaking with collage and explores the psychology of labor and the proverbial American Dream. The imagery is constructed from relief prints with iconography derived from pop culture, folklore, historical paintings, household items, flora, fauna and any items that are relevant to my experience. I am most proud of my recent body of work, a series of vessels and bouquets titled "Flourish". They are symbolic of overcoming the limitations of class and gender roles – to grow and flower into being.
 The arts are transformative and this body of work captures a state of mind. As a child, I was surrounded by seamstresses, tailors, carpenters and artisans. My grandfather was a self-taught upholsterer and managed to build a business from scratch and support a family of 12 with his talent. He had an upholstery business where I saw him masterfully restore the interiors of classic cars, freehandedly draw sewing patterns, craft high-quality leatherwork and make his grandchildren one-of-a-kind backpacks and messenger bags with our initials and big bold hearts. I did not have access to art classes as a child, but my exposure to my mom's fabric store and my grandfather's business taught me to produce the highest quality craftwork and taught me to have a strong work ethic. I was intuitively creative but did not begin to learn how to make art until I was in high school and decided to pursue it in college.I have always known that I want to be a maker and a do-er. In that sense, my experience has been linear. It has not been linear in the sense that there are no definitive milestones or directions for an artist to take, the way other professions have built-in benchmarks and markers of success. I learned about the variation within the arts on the job as a gallery director, by working with many emerging, mid-career, and established artists. I would read their CVs and look up the residencies, grants, and awards they had obtained. I would hear about their special projects, their collaborations with museums, and public art opportunities. I learned the process of preparing for a show, budgeting for a show, and the importance of keeping an archive or inventory system. Working in a gallery taught me about the business side of the arts, which was not addressed when I was in school. Every free moment and weekend I have to myself is an art-making and learning marathon. The most challenging aspect of being an artist is preventing burnout. On the days that I feel tired and hesitant to throw myself into my work, I watch documentaries on other artists and listen to art and design podcasts. It helps remind me that I have a mission and that mission is to make work.
Let's say your best friend was visiting the area and you wanted to show them the best time ever. Where would you take them? Give us a little itinerary – say it was a week long trip, where would you eat, drink, visit, hang out, etc.
The first place I would show my friend is my grandmother's garden. My grandmother passed away earlier this year and spent 30 years working on building a garden that is full of roses, succulents, cacti, ferns, and trees with a touch of improvised installation art. She was a collector and would find knick-knacks, toys, and pieces of string and tie them up in unexpected places. My grandmother's garden has become a subject of a new series of paintings and a sanctuary for me. After the visit to the garden, we would go for a walk in Griffith Park's Ferndell Trail because the quarantine has made me want to immerse myself in nature. I love the tropical plants, the sycamore trees, and the frog and turtle filled creek that runs along the fern trail. It is a lovely place for a walk and the plants provide plenty of shade. There are bridges covered in moss and it smells of wet soil. In non-pandemic times I would invite my friend to galleries and museums to look at some art, or to a movie. I would also invite them to dinner at one of my favorite steak houses. Damon's steak house in Glendale is a charming Polynesian restaurant that has been around since 1937. The food is delicious, the servers are friendly and they have a tiki bar where one can order the stiffest Mai Thai's known to mankind. During the pandemic, I have ordered takeout from Damon's and enjoyed it at home, while watching Pen15 – a hilarious television series created by two comedians who play themselves as middle-school kids in the year 2000. It is a delightful throwback.
Shoutout is all about shouting out others who you feel deserve additional recognition and exposure. Who would you like to shoutout?
Shout out to all of the women in the arts sector who are often doing emotional labor on top of the manual labor workload. We are the strategists working preemptively to make sure everyone's needs are met and people feel like they are a part of a community. I would like to acknowledge the hard work and commitment of all of the women I have worked with in the past through the gallery sector, artist assistants, curators, writers, and interior designers. When I worked at Bergamot Station in Santa Monica, I met some inspiring women who were passionate about their work and invested their time, energy, and souls into their work and roles as leaders in the arts. Shout out to all of the artists who identify as women who have struggled to find a platform for their work and are underrepresented in the arts – and the women who are working behind the scenes to change this.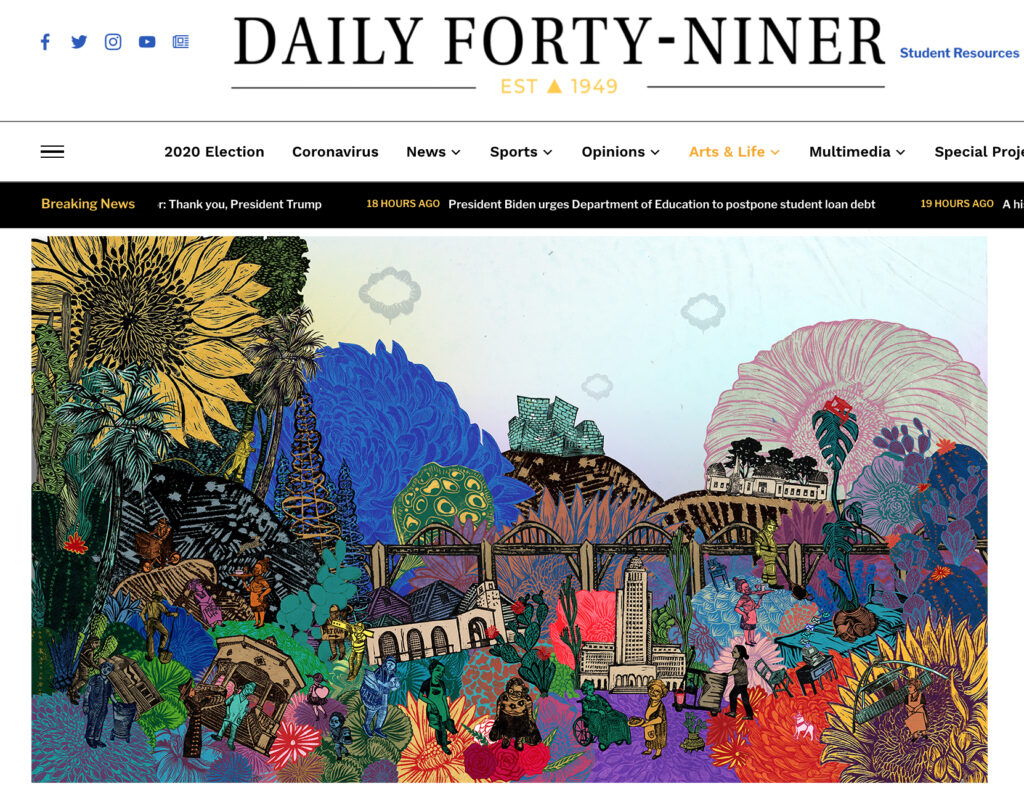 A maintenance worker, a nurse, a waitress, a mailman, a food delivery worker and a construction site worker. Before the coronavirus pandemic, what these workers have in common would not be obvious.
But now, their roles in our society have become clear.
They are essential workers.
And like the historical figures who live on through art, Long Beach State alumna and artist Stephanie Mercado has memorialized these figures in her print collage, "For the Love of Essential Workers."
The piece, commissioned by the Los Angeles County Metro, is part of a new art series, "Silver Linings," which had local artists create artwork that highlight acts of care and inspires human connection amid the challenges the coronavirus pandemic brought. The pieces will be reproduced and displayed as posters on Metro buses until July.
Each print featured on Mercado's collage, from the workers to images of Los Angeles neighborhoods and structures, were carefully considered by Mercado. The piece tells a story that draws inspiration from Mercado's experience as a Los Angeles native.
She included a structure from Mariachi Plaza in Boyle Heights, where she grew up, on the bottom left of the collage, as well as an image of a Mariachi player blowing on a trumpet, a reference to musicians who have lost out on performance opportunities since the start of the coronavirus pandemic.
Throughout the piece are other notable Los Angeles structures, including the Watts Towers and Griffith Park, and between that, are the colorful prints of essential workers.
According to Mercado, the children with their backpacks and the image of an older woman carrying bags at the bottom of the piece are especially important to her.
"In my family, my mom and my grandmother used to constantly walk to the grocery store and carry groceries back home with a heavy load in their arms and that's just the way it is in my neighborhood, and so there's the risk factor in that too, you know, not being accustomed to just having groceries delivered," Mercado said.
Creating artwork for the L.A. Metro is competitive, Mercado said, as the transportation system receives interest from many artists when an opportunity like "Silver Linings" is announced.
In 2013, Mercado applied for project with the L.A. Metro. It wasn't until "Silver Linings" that Mercado would be selected to do a piece for the company.
"It took seven years for me to get my foot in and to get my work shown," Mercado said. "I think that just being diligent and being persistent is key to being an artist, or to any field, really."
Mercado, who graduated from CSULB in 2007, was given 12 days to complete the piece, working on it at night after her day job.
But it wasn't just about completing the piece, it was about getting the message right, a decision that applies to all of her work.
"I want to make sure that I honor what is going on, that I honor the people who are working and that I don't romanticize what is happening," Mercado said. "I think that we have a responsibility as artists to create work that is not only honest, but is also just responsible in the way that we are creating imagery that represents our time."
"For the Love of Essential Workers," a piece that took about 100 hours to make, is an ode to the workers who have kept Los Angeles, and cities across the nation, functioning, Mercado said.
It represents that everyone in these positions were at risk of being exposed to the virus, and therefore, their work needs to be valued.
"I think that for an essential worker to see themselves represented in a piece…in an artwork as they're riding to work can inspire some hope, maybe for a day, maybe it would have a longer lasting impression on them," Mercado said. "That's really what my goal was when I was including them in this landscape and making it so vibrant, is to try and create some kind of hope because this time will pass."

The Thought-Provokers: Celebrating Artists & Creatives
Stephanie, please kick things off for us by telling us about yourself and your journey so far.
I grew up in Boyle Heights, Los Angeles a predominantly Latino working-class neighborhood. As a child I spent all of my time in my mother and grandmother's fabric store, surrounded by patterned fabric, vibrant colors, lace, thread, and sequence. Costume jewelry lined the display cases accompanied by handmade goods knit for babies by the local ladies, while gaudy dresses purchased from Downtown LA's fashion district dangled from the ceiling. The business next door was a carpenter who made handmade furnishings. My grandfather's family business was in upholstery. As a child, I was surrounded by creativity, craft, and skill – but I did not have access to arts education. I first saw someone paint while watching PBS. Bob Ross was my introduction to painting at the age of 15. I decided I wanted to learn how to paint, so I bought myself a paint set and started making terrible landscapes and happy little clouds. I decided to pursue Fine Art in college, taking classes in art history, painting, printmaking, ceramics, metals and everything I could get my hands on. In the summer of 2006, I was awarded a merit scholarship to study painting in Florence, Italy through CSU Summer Arts, which changed my life. I knew then that I wanted to commit my life to the arts, and managed to find work managing a print shop, assisting artists and later on as a gallery director. I've been working as an arts administrator while maintaining my art practice since 2009.
Can you give our readers some background on your art?
I use different media to make work, that includes painting, printmaking and fabric sculptures or costumes. My paintings are primarily portraits of women. The themes have morphed over time from depicting quirky socio-political critiques of the American Dream and pop culture to portraits of maids. The maids have taken over my printmaking practice, and I have begun to make images of women in classic black dresses with white collars. The maid first appeared in one of my large paintings as a quiet, unseen character at the very edge of a painting, stealing a slice of cake from a banquet table, while a posh party took place in the background. She resonated with me, and I began to realize that I identified with her more than any other characters I had painted. I began to explore her narrative. The maids have become an archetype for women who get work done, who are underpaid, underappreciated and overlooked. They represent characters who may be put into a box, but have boundless spirits and are multi-dimensional. Their profiles and flatness make them seem as if they could be pasted like flies on the walls. Although they only have one eye, they see everything and they say nothing. Their silence alludes to conformity and the cultural belief that it is wiser to be subservient than to speak one's mind and risk losing one's job.
The maids tell a story about power, class, and human relationships. They explore themes of subjugation and the nuances by which people try to maintain their identity, dignity, and independence. Each figure is caught in a place between reality and a world that is deformed and shaped by the people who control their environment and their livelihood.
 The printed maid series are relief prints, individually carved, hand-printed, incised and collaged together. I have printed and incised thousands of prints to make colorful collages with diverse narratives. The Flourish series began as a bouquet of paper flowers being held by a vessel with maids pushing each other forward around the vase in a Sisyphean manner. The bouquets transformed from flowers to household items, with an explosion of maids blossoming, growing and prospering from the vessel.
As a printmaker, I also like to print on textiles. As an artist who grew up in a fabric store, making dresses for myself at the age of six, I also use my sewing skills to make textile-based sculptures. One of my special projects was a faux Louis-Vuitton plastic-wrapped loveseat in homage to my grandfather and the upholstery trade. The loveseat was constructed with hand-pulled silkscreen fabric, wrapped in protective plastic alike the plastic wrapped furniture of the 80's and 90's. It was a commentary on protecting one's valuables, however uncomfortable it may be. I hope my work makes people question their beliefs, their values, but most of all I hope my work makes people think.
Do you think conditions are generally improving for artists? What more can cities and communities do to improve conditions for artists?
Conditions for artists today have become more complex. One one hand, there are more opportunities for artists to work in the arts and maintain an art practice. Los Angeles' art world is growing, and there are more galleries and organizations willing to show artists work. Social media platforms and websites like Instagram, Patreon and Saatchi, have made it possible for artists to act as their own agents and make a living doing so. But these opportunities also feel like a lot of noise at times. It can affect one's mental health to be on these sites and not see the kind of engagement one hopes to have.
In that sense, the noise has made it harder for artists not to compare themselves and their practice to others. The city of Los Angeles can invest in artists through grants, specifically micro-grants that are slightly more attainable than the larger city-funded grants that feel impossible to get. The city can also invest in more public art like the art found at Metro stops and open the opportunities to artists who do not already have public artwork. I appreciate that Voyage LA is featuring artists on their platform and I look forward to seeing the positive impact and influence it has for artists and the arts in Los Angeles.
What's the best way for someone to check out your work and provide support?
My work can be viewed in person at Hooks-Epstein Galleries in Houston, TX or at my studio in Boyle Heights. Appointments for studio visits can be made via email or through my website www.stephaniemercado.com. This year, I have exhibitions scheduled in Haugesund, Norway, Venice, Italy, Dallas and Houston, Texas. People can support my work by sharing this article, following me on social media and letting their friends and colleagues know about my work.
The Sewing Circle: Feminine Narratives at the Marlborough School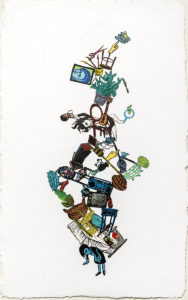 The Sewing Circle: Feminine Narratives
Marlborough School, Seaver Gallery
Curated by Siobhan McClure
On view through September 29th
Public reception: September 22nd, 5-8pm
By Nancy Kay Turner
The Sewing Circle: Feminine Narratives, curated by Siobhan McClure at Marlborough's High School's Seaver Gallery, brings together ten artists of diverse ages who are at different stages of their careers. The Sewing Circle is a metaphor for a safe domestic space where women have traditionally gathered to knit, quilt and crochet while sharing intimacies as only women can. Siobhan McClure, in her eloquent curatorial statement, says "Here the personal and the political merge in female-centric narratives. Overlapping threads are the body as a vehicle of desire, subjugation, power; identity as a construct to be questioned, shed, swapped; and childhood as a battlefield bathed in beauty yet drenched in destruction…"
McClure's own body of work, "The Salt Marsh Chronicles," has this dystopian and apocalyptic narrative at its core. In the delicately hued work entitled "Vision of Other Days" (2016, w.c. gouache, graphite on paper, 29.5" x 22.5"), depicts this mythic or nightmarish landscape: a boy with his puppet, a stranded dog, an abandoned car are all marooned in a detritus choked marsh. Behind them stand the ruins of a once grand bridge, now separated like the children from land. Paradoxically, neither boy nor dog appears afraid. At most, they seem inconvenienced or confused. This theme of children alone, in gorgeously hued watery landscapes with decaying or abandoned architectural structures, is evident in the large – scale painting entitled "Exodus" (2017, oil on canvas/panel, 36" x 72"). These seemingly privileged children have nowhere to go as they halt at the edge of the steps, looking on rather stoically at the cluttered shoreline. They seem resigned to their fate – almost frozen in time and space. These are beautiful but disturbing prophetic visions of the very near future and, in some places, the present.
Like the grand sweep of McClure's paintings, Laura Krifka's 8-minute stop action animation, entitled "Sow The Wind," features pioneer children (albeit paper puppets on strings) in a perilous environment filled with angry adults, wild beasts and death and destruction—all the while to the sound of a sweet upbeat nineteenth century waltz. The ironic use of music to contradict the visual image is reminiscent of the scene in Dr. Strangelove where Kong rides the atomic bomb down to the strains of "When Johnny Comes Marching Home." Or Vera Lynn as she sweetly sings "We'll Meet Again," as chilling footage of atomic bomb test explosions decimate nature and architecture in living color. The title "Sow The Wind" is from the Old Testament and alludes to sin, ruin, judgment and consequences. This compelling and quixotic animated film contrasts the violent nature of children's cartoons with the saccharine image of childhood as an innocent time and owes a debt to Ralph Bakshi and "Heavy Traffic," one of the first X-rated animated cartoons.
"A Girl and A Boy" (2018, mixed media 41.5 " x 11" x 9" (girl), 50" x 9" x 7" (boy), is a charismatic sculpture by Andrea Patrie that amplifies this dystopian view. Constructed rather casually of tape, plastic, scrap fabric and Styrofoam and wires, these figures with their ragged clothes or broken parts evoke poverty, homelessness or even the ravages of the first Atomic Bomb dropped on Hiroshima.
Kelly McLane's large- scale (72' x 42") acrylic, watercolor, and graphite drawing, done in 2017, entitled "Kids," at first seems downright bucolic after these other apocalyptic works. In a fresh abstract gestural style, with hints of finely painted birds, deer, and landscape elements, two long -haired girls emerge. One girl, a frenzied blur of contour lines, is pulling the hair of the other. Hints of text, often illegible, form a palimpsest under the surface, like thoughts racing by. This is a recognizable image of presumed sibling rivalry, which though common, can be very destructive and unnerving.
While McClure, Krifka, McLane, and Patrie all ruminate on the role of children in society. Phung Huynh is more concerned with the damage that is wrought in the name of beauty. In her haunting "Pretty Hurts" (2018, oil paint and enamel on wooden desk drawer" 19.5" x 25.5"), Huynh presents an angelic, androgynous figure sitting at a school desk, with a calligraphy brush in hand, while a little "birdie" and a banner proclaim "Pretty Hurts." It is painted in the manner of Southeast Asian miniatures, replete with a gold leaf nimbus around the child's head. Situating the painting in a vintage school drawer insinuates that these false notions about beauty are drilled into children at a very young age.
Cultural norms of beauty also play into her work. In "Blue" (2016, oil paint and collage on canvas, 20" x 20"), a young Asian woman is changing the color of her brown eyes by putting in a blue contact lens, perhaps to adhere to a Caucasian "ideal" of beauty. Huynh continues the theme of pretty hurts with "Nose Sharpener" (2016, oil paint and collage on canvas, 20" x 20"). Here a nubile, young nude female sits cross-legged while using the "nose sharpener" on her own nose, presumably to change its shape. Her left foot is horribly misshapen as a result of Chinese foot binding referencing those women whose feet were bound and who were forever crippled as a result. It reminds one of the ugly stepsisters in the original Grimm's tale, who cut off their toes to fit into the glass slipper. Huynh incorporates hints of landscape –something like a Bonsai miniature tree, which is also pruned and clipped until it achieves an unnatural but beautiful shape. Her work is a cautionary tale of woe and sadness.
Stephanie Mercado's "Responsibility is Really Heavy" 2018, handprinted, hand cut relief prints, collage on handmade paper, is a highly detailed, humorous representation of an apron–clad woman, bent over with the burden of carrying all sorts of domestic objects balancing precariously on her back. All of these objects –T.V.'s, beds, children, baskets, stools, instruments point toward onerous domestic chores. This is a visually arresting work, with cutout lines etched in black ink, forming a rhythmic pattern on the surface of the subtly textured handmade paper.
Lavialle Campbell, with her refined quilt entitled "Lovely Ash" (2014, 100% cotton, 50' x 62"), is the only artist here who actually sews anything. Here each stitch becomes a drawn line forming quilts within the quilt like the infinity of mirrors. The interior shapes also reference the outlines of the shape of a house. Simply elegant, this work is minimal in color but has maximum impact due to the natural complexity of the stitchery and the excellent craftsmanship.
Kate Savage's portraits of mythical characters highlight strength and courage (with a hint of vanity) and are painted loosely with a monochromatic or muted color palette. Rebecca Campbell's three terrific loosely rendered portraits are from her "You Are Her," series, where she paints portraits of female graduate students in her class to give them visibility as artists.
Tidawhitney Lek, in the complex and humorous landscape entitled "The P. and the B." (2018 acrylic and oil on canvas) gives the viewer an unusual view of the city beyond the concrete foliage covered barrier in her backyard. The "P" and "B" of the title are her cat and dog who one sees from behind (and I do mean behind). Meticulously painted, with crisp hard edges, it has with every inch of the surface jam packed with imagery peeking through the negative shapes of the concrete and the foliage. Lek's painting is a tour de force work that celebrates the beauty within and without walls. This is an engaging and thoughtful exhibit (perfect for an all girls school) where the artists all explore and examine different versions of a feminine narrative.
Published in Art and Cake, September 2018
https://artandcakela.com/2018/09/17/the-sewing-circle-feminine-narratives-at-the-marlborough-school/

Capsule Art Reviews: July 31, 2014 BY JIM J.TOMMANEY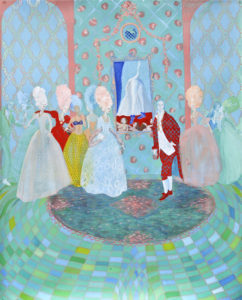 "Lisa Bick: Wax and Fire & Stephanie Mercado: Then, Here, Now" Two artists have shows, designated "solo," at Hooks-Epstein Gallery, one with a lighthearted approach, the other more serious. Stephanie Mercado's Adrift on Memory's Bliss has a man dreaming on a river while a tree sprouts from his chest, with the heads of six women in its branches, while a sailing sloop nestles high in the branches of a tree onshore. Inside Out has an air of mystery, and a highly successful contrast of blue flocked "wallpaper" with grays, as well as Mercado's trademark surrealism.  If you enjoy wit and talent, Mercado is for you. Lisa Bick uses melted wax, resin and pigments, fused by a blowtorch, to provide an impression of antiquity, and has ambitious intentions, perhaps overly so. Sometimes there are schematas resembling architectural drawings as background. There is extensive use of browns, and even here some occasional humor. Fracking Pink shows the extraction not of natural gas but of the color pink from the ground. Where in the World Do I Go from Here includes detailed drawings of ancient maps, lines apparently drawn by a compass, and an enticing sense of layered depth. Acid Rose uses an architectural sketch for a garden as background, and the result is serene and highly satisfying. Varanasi is an ancient city on the Ganges river, and a painting with that title is the most colorful, with Bick's techniques softening the colors to provide grace and beauty.  — JJT
Hooks Epstein Galleries 2631 Colquitt, 713-522-0718, hooksepsteingalleries.com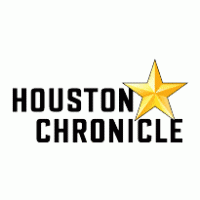 Opportunity comes knocking for emerging artists By Molly Glentzer July 25, 2014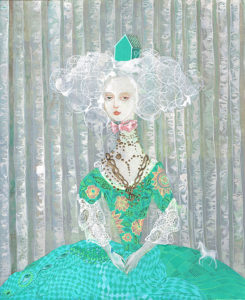 One of the most anticipated art openings of the summer did not occupy a lot of space. The show wasn't even visible through the gallery's front door. Jon Hopson's Hello Project has taken over a back storage room at McMurtrey Gallery, one of the mainstays of the gallery cluster near Kirby and Colquitt streets. Hopson, who also manages a private Houston art collection, and dealer Roni McMurtrey remade the room as a transitional space for emerging artists. "We saw a niche in the community. There's so much going on but so little filters into gallery settings," Hopson said. "We want to put names in lights in a nice, clean commercial setting. Hopefully, somebody sees the work and it carries the artists from one place in their careers to another." At the opening, other dealers joked that Hopson was doing their legwork for them. That made him happy. Debra Barrera, McMurtrey's gallery manager, a sculptor – and Hopson's wife – said he did laps around Texas to find talent for Hello Project's first show, "Summer Party." It features paintings by Carlos Rosales-Silva, Alika Herreshoff and Michelle Rawlings, photographs by James Scheuren and sculpture by Angel Oloshove. All have Texas connections, but none are represented by Houston galleries – yet. Herreshoff will have a solo show at Art Palace on Main Street in the fall. Oloshove's work has been shown at Lawndale Art Center and other local spaces. "We want to give artists an opportunity to put their best foot forward," Hopson said. For some, that means a solo show. Come Sept. 5, Hello Project will feature Houston artist Seth Alverson. Hopson is timing the opening to draw a crowd from the Texas Contemporary Art Fair. He plans to mount new shows every four weeks. That's an ambitious schedule, but he sees no shortage of talent out there. "It's what artists need and deserve," he said. He doesn't aim to represent them long-term, he added. "I scoop them up, get people to pay attention, hope for the best and move on to the next one." This is a new model in the Houston scene, which has more than 30 galleries, a dozen museums and a burgeoning number of alternative, artist-run spaces that fill homes, storefronts and warehouses. The scene wasn't that rich in 1979, when a group of gallery owners, led by Hooks-Epstein owner Geri Hooks, founded the Houston Art Dealers Association and stirred up excitement by staging concurrent shows dubbed "Introductions." After the association folded, Harris Gallery picked up the baton and began organizing the July shows as ArtHouston in 1998. With two opening nights at several clusters of galleries, it still brings out crowds with a concentrated marketing effort. This year, 32 galleries share listings in a brochure and on the ArtHouston website. Although some include a work or two by newcomers, a number of dealers now install group shows in July by artists they already represent. Hopson believes that's a shortcoming of the traditional gallery model. Already committed to anywhere from 18 to 30 artists who each claim their walls every two to four years, many galleries simply don't have room to open their doors to more. Devin Borden tries to give each of his 18 artists a show every year and a half. "It's important for the artists to be able to look forward to the next one. It's energizing. If there's not this light at the end of the tunnel, it can be debilitating, not knowing what's coming next," he said. His current show features new work by Houston artist Kaneem Smith, whom he's represented for about eight years. Inman Gallery director Patrick Reynolds said he and dealer Kerry Inman appreciate more artists than they can accommodate. "We're always discovering. It would be wonderful to show all the work we find fascinating, but it's just not physically possible," Reynolds said.  They solved the issue this year by inviting Demetrius Oliver, a former Glassell School of Art Core Residency Program fellow whom they've represented since about 2007, to share an exhibition with his New York studio mates, Wardell Milan and Titus Kaphar. Inman knew them all through Oliver; she included Milan in a previous group show but Kaphar is new to the gallery. Following their work, she was intrigued by their practice of curating their own shows. "We had this slot in the summer and thought it would make a great introductions show," Reynolds said.
 "They had worked with each other enough that we trusted them to choose the work on their own." The artists also installed the show – normally part of a dealer's job – surprising Inman and Reynolds by grouping some works closely and hanging others at odd heights. "They did some things we would not have done because we wouldn't have had the permission," Reynolds said. For example, they hung a photograph by Oliver right on top of a construction by Kaphar. "A collector could do that at home, but because we try to explain individual works, we probably wouldn't have gone down that road," Reynolds said. "When I saw what they were doing, it was a little shocking but also liberating. It was fun. It opens our eyes up to viewing the exhibition in ways we might not have. Some of the works are very formal and some are conceptual; it was interesting to see how they negotiated that." Barbara Davis gave the now internationally known Julie Mehretu and Shahzia Sikander, also Core program discoveries, their first solo shows during Introductions. Davis still likes to feature artists who are new to Houston (or the world) in July. She's showing paintings by Martin Durazo, a mid-career Los Angeles artist, and the emerging Owen Drysdale, who just earned an undergraduate degree from Texas State University. (Her gallery manager, Hannah James, went to the same school.) Dealers typically prefer to see a master's degree on a résumé because it represents two or three years of intense focus on technique, usually guided by professors who are successful artists. It shows commitment. But schooling is not the only criteria. "A lot of it is a social connection that happens within the art world of Houston," Borden said. He likes to become familiar with artists over time to judge their character and see that their work has "fertile possibility." "One of the characteristics of a good gallerist is an ability to pick artists who are in it for the long haul," he said. "If you look at the statistics of people with graduate degrees who drop out after a few years, it's staggering." Borden recently added Christopher Cascio to his roster, a Houston painter whose work he first saw at Lawndale several years ago. "Lawndale is important. It has an artist's board. It's a professional space. They do a lot of programming. It's a great first step, a great venue to show in," Borden said. Hooks-Epstein Galleries manager Yvonne Garcia also discovered Houston artist Lauren Salazar at Lawndale. She and Hooks quickly brought a few pieces into the gallery's office – not a big show, but big enough to show clients, who have responded positively. Hooks still likes to use her walls in July for Introductions. "We've tried to continue showing new talent, often with no commitment," she said. Her current show features encaustic paintings by Lisa Bick and paintings and prints by Stephanie Mercado, both new to the gallery. A friend recommended Bick. "That's normally an immediate turn-off, but this happened to be a good one," Hooks said. Garcia first saw Mercado's work in a group print show at Austin's Mexic-Arte Museum last summer. A little web research enticed her further, and she visited the artist's California studio when she was there in September on other business. She loves the whimsy, color and detail of Mercado's paintings as well as their backstories. Mercado is Mexican-American, and her grandfather sent the family's children to college with money he earned from his upholstery business. "That's why in a lot of these paintings you see design, furnishings and patterns. It's symbolic of what she saw growing up with her grandfather," Garcia said. Hooks-Epstein has now signed Mercado to its roster, the artist's first representation. Introductions still are popular at other spaces, too. Zoya Tommy Contemporary is giving ceramic artist Scott Rosenberg his first solo show. Anya Tish is juxtaposing complimentary works by an older artist, George Grochocki, and the emerging Shayne Murphy. And McMurtrey's large front gallery is awash in colorful, quilt-inspired paintings by Catherine Colangelo, whose previous dealer, Darke Gallery, recently closed. So the old model isn't all broken. But keep your eyes on the back room.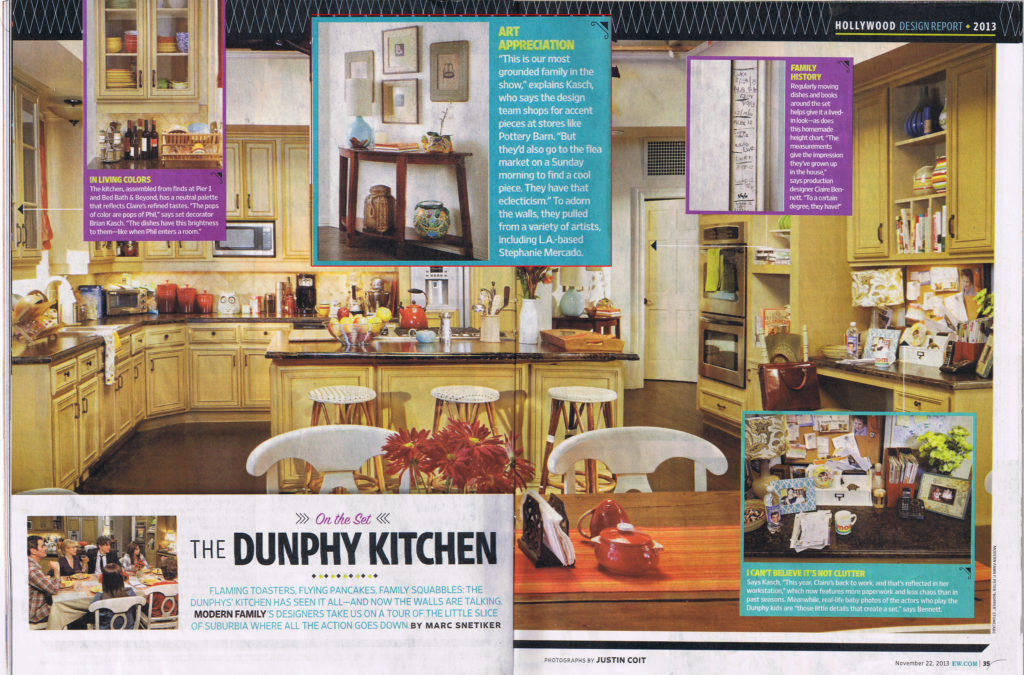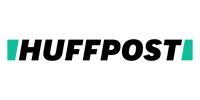 A Snow White Story Turned on Its Head By Carol Es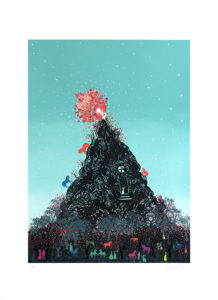 Once Upon a Time in the land of Highland Park, if you don't know where that is, it is in Northeast Los Angeles on the west side of the Arroyo Seco. This neighborhood has gone through an abundance of changes over the past 20 years, yet it has kept its original flavor and family history without becoming too gentrified. Perhaps that is because there is still a bit of gang activity, but nothing like it was before the mid 1990s. Since then, artists of all stripes have made it their homes and low-rent studios. Whether long term or for a short time, artists inevitably find many of our LA neighborhoods for what they are: gems, before the poor and the artists are squeezed out to make way for Starbucks and Banana Republic. But not just yet in the area around Figueroa and Ave 50. 
About 13 years ago, Kathy Gallegos founded Avenue 50 Studio. 
A social, cultural and political activist for most of her life, Ms. Gallegos has helped Avenue 50 Studio sponsor over 300 events as a source of cultural responsibility. She recently approached award-winning artist, José Lozano, to curate a show at the gallery. In his own words, José's ideas for the exhibition, Seven Beauties, were: I had the phrase seven beauties in my mind for a while when I was approached by Avenue 50 Studio to curate a show. I know seven beautiful female artists whose work is spiritually and intelligently beautiful, and whose work I really admire. These are disciplined artists producing very wonderful art. My first choice was Kim Abeles who is my mentor. She was the professor at Cal State Fullerton who directed me toward the artist I am today. It's an honor to have her in the show. This is not a feminist show. It's just art done by women. Many different approaches and sensibilities run through this exhibition. It shows where women artists are at today in the making art in Los Angeles. José Lozano is also exhibiting small portraits of each artist in this show and these are just wonderful. I thought they were truly great additions to the exhibition and brought the whole thing together to make it more meaningful. The other excellent artists in the exhibit include: Leigh Salgado, Rochelle Botello, Poli Marichal, Stephanie Mercado, Linda Arreola and Lili Bernard.  I went to the opening on Saturday, May 11, 2013. Much fun was had, and I have to say, when most galleries in Culver City, Beverly Hills and Santa Monica are having their own opening nights — of which I have been o'plenty — none of them have ever held a candle to what I saw at Ave 50 Studio's amount of hors d'oeuvres and wine, and variety, plus mojitos. Spectacular! All of you prestigious galleries: learn yourselves something.  During the course of the show, which runs until June 2nd by the way, the gallery will be screening the film, Seven Beauties by Lina Wertmuller. Participating artist, Poli Marichal, will lead a discussion on how the movie relates to feminism paralleling and modifying the present day.
 More information on this screening will be forthcoming, so you can still see the show and participate in this upcoming event, which should be quite interesting. The opening reception was absolutely packed and it seemed like more than 10 different people were taking photographs with expensive cameras. I have a feeling I'm going to wind up on Facebook with my eyes in a half-blink between a couple of these great looking artists, a few of whom I know very well. Had I known I was going to wake up today and write about this show, I would have brought my own fancy camera so I wouldn't be hunting down all the artists down today for images. Now, even though I had good friends among the crowd with their original art hanging along the walls, I have to be honest about my very favorites that stood out for me — without playing favorites. You get me? Rochelle Botello, who usually produces sculptures with colored tape and cardboard, or rather, more like installations, since they really are temporary constructions. Most of them are destroyed after they are exhibited and documented. Here, she has created two dimensional pieces with basically the same media. They are framed as 2D art and hung on the wall, akin to abstract paintings and (hopefully) not temporary at all. This was something new for her and in some ways, I preferred it. Actually, I can't make up my mind. I might miss the absurdity of her installations. Those play with my dark sense of humor and I understand them easily, and now, this new work is a challenge. It's contemplative, and a new side of the artist I have never known. Her 3D is at times contemplative as well, and so I wonder if, like her drawings, if she could accomplish the same balance with only tape and paper. Stephanie Mercado — she took over my old studio in Highland Park — has been outrageously prolific, cranking out seemingly a dozen amazing artworks at a time. Whether they are paintings, etchings, or dry points(?), she's mastering her crafts quickly and the subject matter, floating on water or not, is beautiful and brilliant! I can easily spot her work from across a 100-foot room and my eye sight sucks ass! She has come into a singular vibration that can not belong to anyone else even if they studied for their Masters in "Mercado." It's a kind of Raphael effect. Now, just because I had favorites in the show doesn't mean the rest of you chickies didn't make me swoon and soar, ooh and ahh. You did. But you always do. Seven Beauties is a MUST SEE! (Through June 2, 2013.) Oh, and don't miss out on the little exhibit in the annex room by Frank Gutierrez called "Explain Yourself." Very cool, colorful and interesting paintings. 

Art Show to Reflect Economy, American Dream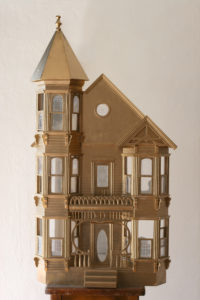 Local artist Stephanie Mercado will debut Land of Plenty—artwork that blends contemporary themes with historical imagery—at SPACE 6 p.m. Saturday. Come out for the opening reception!
By Kristen Lepore (Patch Staff) – Updated January 27, 2012 7:13 am ET
Art Show to Reflect Economy, American Dream
Artist Stephanie Mercado overlooks an oil painting hanging in her Highland Park studio. The portrait is filled with 18th century imagery but also modern day influences. Think Marie Antoinette carrying a Louis Vuitton purse. Literally.

Titled Mine is Forever, the painting is one of many (gouaches and oil paintings) that will debut at 6 p.m. Saturday in Mercado's show: Land of Plenty.
While the aesthetics are romantic, her color choice is vibrant and the work itself reminds us that social and economic inequities have spanned centuries: "the greed and the pursuit of material goals, and the price some of us are willing to pay for their attainment," wrote SPACE in a recent press release.
"It's about providing for the next generation—the pursuit of the American dream," Mercado said of her work.
"There's also the element of flaunting one's success and not being so much satisfied with just having a simple house."
Back to her Roots
Land of Plenty grew from the idea of immigration, said Mercado. Her family's story is deeply rooted in her art—with her grandparents having come to the states from Guadalajara in the '60s in hopes of a "better life." 
It's also the people in her hometown of Boyle Heights who have made an impact, she said.  
"I live in a working-class neighborhood where there are people selling oranges on the street corner—or roses—just to make a living … and trying to make it just to have the basics, the necessities."
Yet while economic inequities and the American dream are apparent themes in Land of Plenty, there is also a playful vibe throughout the work she produces.
"It's not so brutal and so visually challenging in a sense that it punches you in the stomach," she notes. "I very much value having a sense of humor." 
Interested in seeing it for yourself? Land of Plenty will be on display at through March 10, 2012. 

Rococo Triangle: Stephanie Mercado, Eye for the Sensual, and Fashioning Fashion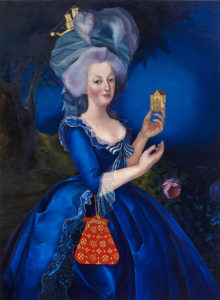 October 15th, 2010 11:11 pm PT by Meagan Boyd
Since the very beginning of time, the universe has continuously presented an infinite saga of strange coincidences. At the moment, Los Angeles is graced with a triangle of art exhibitions that communicate to each other through the centuries, both revealing aspects of aristocratic societies. One of the two exhibitions taking place at LACMA in the Resnick Pavilion is entitled Eye for the Sensual, a collection of about 85 European paintings and sculptures from the Stewart and Lynda Resnick collection which will be on view until January 2, 2011. These works include the infamous Portrait of Marie Antoinette, Our Queen of France by Élisabeth-Louise Vigée-Le Brun, along with the vibrant pastel colors of the paintings from the whimsical Rococo period. These paintings were made primarily for the wealthy aristocratic families and royalty of the era. The Yin to this yang, if you will, is Stephanie Mercado's Exhibition, All This and Heaven Too, that is taking place in a part of town with a lot less schmooze, Echo Park California, at the Underground Gallery. The opening night is Saturday, October 16th at 7pm, and will run until November 20th. Her work explores the ideas of the American Dream, which gives everyone the impression that we can all be wealthy, or at least appear that way. Mimicking the paintings of the Rococo period, specifically the Marie Antoinette paintings by Élisabeth-Louise Vigée-Le Brun, she strategically places modern day status symbols in her work such as in Mine is Forever, oil on canvas, 2010, in which she places a Louis Vuitton purse in one hand, and a tiny suburban track home in her other hand. She paints with the same skill of the Neoclassical painters of the 1700's, with vibrant colors and well rendered subject matter. Many of her paintings include imagery of houses, which she attributes to her and her families feelings upon getting wrongfully evicted from their home a few years ago. Stephanie is quite grounded and speaks about her work with ease. She understands hard work, and puts that into everything she does. She works full time at an art gallery in Santa Monica, and as soon as she leaves work, she is off to her studio where she paints until the crack of dawn, comes home for a few hours of sleep and wakes up in the morning to do the whole thing over again.  
Her austere approach to the artwork is very obvious in her technical skill, but there is still this feathery softness to her feminine images and manages to produce strong conceptual undertones. Her use of the Marie Antoinette figure is very relatable to women of today. She represents a material girl, a diva who is willing to be fabulous at all costs. Her work is a surrealistic, symbolic commentary on the lusty desires American society has for material possession. The interesting thing about the original paintings of the Rococo period, such as the work that can be seen at the LACMA, is it was made without the intent of commentary. There is no message in them that is mocking or provoking the way we see ourselves. They in fact, depict the way the rich wanted the rest of the world to view them, fantastic and dazzling in beautiful evening attire. The paintings themselves say something that is somewhat pretentious. It gives the illusion that the life of the rich should be regarded as iconic. Stephanie's work challenges the European paintings that have inspired her, and she does so with strength and elegance.
Stephanie not only paints, but also designs dresses that resemble the extravagant evening attire worn by European women of the mid-eighteenth century, which provides another parallel for the current fashion exhibition, Fashioning Fashion: European Dress in Detail, 1700-1915, at the Resnick Pavillion at the LACMA, right across from the Eye for the Sensual show. The collection of antique clothing on view is one of those shows that is simply breath-taking. Each piece is spectacularly preserved, and modeled on mannequins with the most exquisite accessories of the era from which they are dressed. One section of this exhibition even explores the undergarments worn ages ago, including the often fetishised corsets and boots that constrained women so severely, that removing these contraptions became an experience of orgasmic release. The intricate beauty of this collection of clothing is absolutely delicious for anyone with a sweet tooth for fashion and history. After taking a look at Stephanie's multi-faceted gradient of work, it is such a delightful treat to stop by the LACMA, which is free from 5pm to 8pm on weeknights, and $15 during the daytime to check out Eye for the Sensual and Fashioning Fashion. These three shows together form a trine harmony of visual stimulation.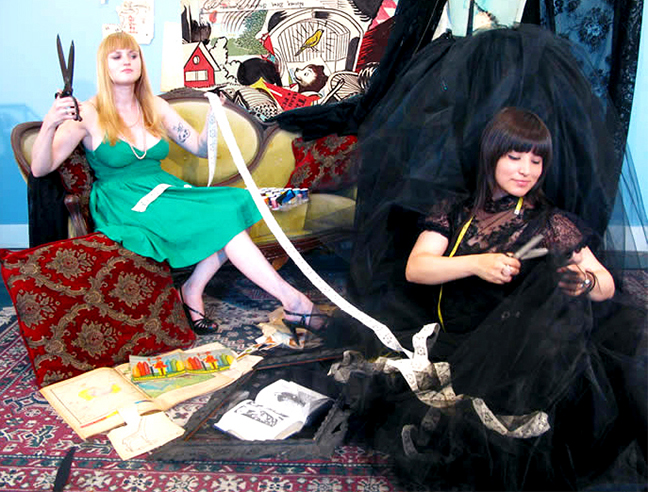 One could conceivably exit an art exhibition a changed person. Such an experience happened during my viewing of "Women on the Verge" a two-person exhibition at Avenue 50 Studio in Highland Park. The curator is Sonia Romero, a graduate of Rhode Island school of Design with a concentration in printmaking. By assembling the collage works of Alpha Lubicz and the dry point and stitch works of Stephanie Mercado, viewers are challenged to investigate assumptions about materialism within so-called American Dream.
Lubicz, who received her BFA at the Cooper Union School of Art in New York, studied drawing, painting and collage. From her collection of vintage children's coloring books and drawings, she creates combined with drawings facilitates spontaneity. New meanings are brought forth. Once standout example, Life During Wartime (2009), is a little girl holding birds and other images from coloring books that appear like cubist collages. With a giraffe and plat to the left along with a jigsaw puzzle piece to suggest facial features, the work playfully explores self-imagery. By pushing the collage boundaries with its multifaceted message about the human condition, Life During Wartime is reminiscent of collage works by Romare Bearden and Kay Brown.
Stephanie Mercado's 15 works examine the hegemony of the American Dream regarding the hunger to categorize, ownership of real estate as well as the obsession to explore and conquer the unknown. While her contour-like dress sculptures explore symbols connected to success, it is Mercado's dry point engravings that whisper with subtle humor a reexamination of unquestioned values about prosperity. For example, All I Ever Wanted is Everything (2010), a dry point engraving with watercolor and gouache is a reference to the historical painting of Queen Elizabeth standing on the map of territories that she governed. The nude female emerging from the towering, lace pattern cake that is surrounded below by miniature houses deconstructs the notion that "you can have your cake and eat it too". Furthermore this piece is a playful reminder about consumerism and exploitation. Her intricate, detailed lines are similar to works by Celia Calderon and Sarah Jimenez. Upon leaving this show, I was challenged to explore not only definitions of self, but also perceptions about wealth.
– Richard May

Review: 'Los Inbetweens: Artists Sin Barrios' at Avenue 50 Studio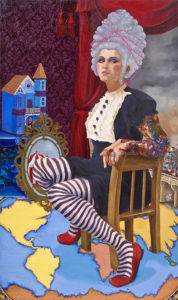 APRIL 24, 2009 | 11:00 AM
"Los Inbetweens: Artists Sin Barrios" at Avenue 50 Studio tackles a broad and familiar theme — too broad, perhaps, to be adequately addressed at this scale, but familiar enough, or at least relevant enough, to merit the attempt at multiple levels. It is an earnest if not revelatory group show with more than its share of strong works, exploring various forms of cultural dualism — Mexican and American, male and female, gay and straight — through the avenue of self-portraiture. 
One highlight is Albert Reyes' "Passports," a clustered ensemble of prints and drawings made on the inside of old hardback book covers. Self-portraits mingle with images of other individuals, dogs, cats, celebrities and popular icons — in a wide variety of styles — to suggest a cross-section of the formation of identity.
The other standout is Stephanie Mercado's untitled portrait of a woman in a tall baroque wig, striped tights, red shoes and a sleeve of tattoos down her arm, sitting on a chair that's planted on a map of the world. 
Other memorable works include a small self-portrait — ballpoint pen on a cloth handkerchief — by Shizu Saldamando; a pair of self-portraits by Angel Villanueva in the guise of conquistador Hernán Cortéz and his mistress La Malinche, who produced one of Mexico's first mestizos; a print by Rigo Maldonado, "Hard to Swallow," depicting a man with a bird stuffed in his mouth; and a lovely graphite portrait by Marvin Jordana. 
– Holly Myers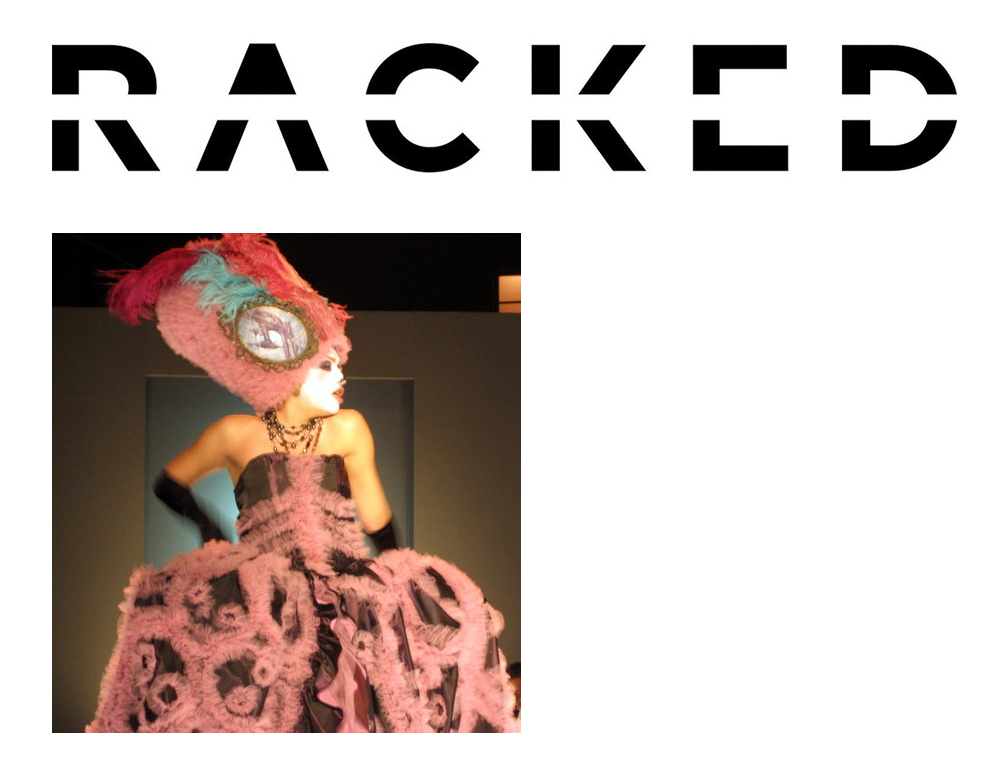 It sounded like the most cracked-out Project Runway ever: Take barbed wire, tulle, paper mache, a shower curtain, and glitter, and use it to design a dress that honors the memory of your immigrant ancestors. (Which, now that we think about it, sounds like really good TV.) It was the 7th Annual Calavera Fashion Show at Tropico de Nopal gallery and art space in Echo Park. About 600 people turned up Saturday night for the spectacle. More than 20 artists and designers created work, and accompanying theater, that paid tribute to causes, people and ideas that inspired them. There was high concept, like Abel Alejandre's "Newsie" look, and paper mache skeletons that mourned the passing of the age of the daily paper.
Stephanie Mercado created a Galliano-worthy masterpiece to honor working class sewers and garment workers; and Marianne Sadowski created a delicate, black and white frock with red beading to honor her mother, and the act of immigrating. There was even a house-rockin', calavera-style Michael Jackson. Didn't make it? Stop by the gallery to view selected dresses from shows of the last five years. "Like a Prayer"-era Madonna would have killed for some of these getups.